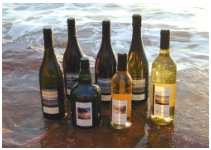 Why not organise a wine tour while you're on holidays?
The island's cool climate, rich volcanic soil and moderating influence of the sea coalesce into excellent wine producing country, as well as beautiful places to imbibe at a cellar door. The quality of wine is clear from the consistently good performances of both of the Island's wineries, Phillip Island Wines and Purple Hen Wines, at wine shows around Australia. Both offer full cellar door facilities (including light food platters) in great locations. Off the Island, Southern Gippsland is developing a strong reputation for the production of high quality, cool-climate wines. Follow the grape signs marking out the Southern Gippsland Wine Trail to indulge in the area's specialties.
96 McFees Rd
Rhyll, Vic 3923 Australia
T.5956 9244
F.5956 9244
Located near Rhyll, on a site with the right aspect and shelter for the vines and wonderful views. Premium cool climate wines with strong varietal character.
30 St Helier Rd
The Gurdies, Vic 3984 Australia
T.5997 6531
F.5997 6158 Cellar Door open everyday from 11 am - 5 pm (winter and summer)
175 Nyora Saint Helier Road
Loch, Vic Australia
T.03 5659 6306
F.03 5659 6324
Fly, Drive or Bus to Bass Valley Estate Wines. Come and enjoy our experience, you'll love it! Winery: 5659 6321
Phillip Island Vineyard & Winery
414 Berrys Beach Rd
Ventnor, Vic 3922 Australia
T.5956 8465
F.5956 8465
Enjoy Phillip Island Wines, our passion! Open 7 days, 11.30 - 5.30pm